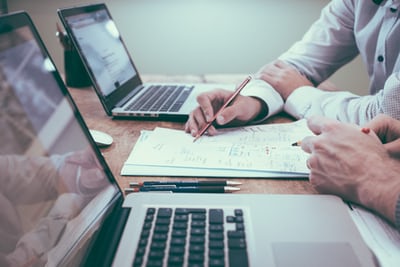 Many law firms charge for an initial meeting with a lawyer. I offer that consultation for free and have since I opened my practice in 2012. There are arguments, both pro, and con, on the issue of providing free consultations.
One school of thought is that people should pay bankruptcy attorneys for their expertise. After all, there is a lot of time and effort involved in meeting with a prospective client, and time is money. But- I feel that when someone is contemplating bankruptcy, money is the central issue, and I don't want a prospective client to forego the vital information a consultation will provide because they are financially strapped and concerned about fees. My time and expertise are valuable, but helping people is what I enjoy about bankruptcy.
In exchange for the free consultation, I ask that prospective clients fill out my worksheet before our meeting and gather a fair amount of documentation. I need this information to understand a prospective client's specific situation and provide the necessary information to make crucial decisions.
Armed with this information, I can determine if it is genuinely in the best interest of a prospective client to file bankruptcy. For some, bankruptcy is either not necessary or not an option. Sometimes their economic situation protects them from creditors, or bankruptcy law will not solve their problems. I am not interested in convincing someone to file bankruptcy so that I can earn a fee.
After the free consultation, my goal is to answer all of your questions and understand all of your options, but in order for this to happen, it will require time and work for both of us. On your end, you'll need to gather pay stubs, tax returns, titles, and more. I will review your documents and your situation to determine how a potential bankruptcy will affect you, your family, your business, and your future. I will apply bankruptcy law and my years of experience to determine if bankruptcy is a viable option and how it will work for you. I take this process very seriously, and it is hard work.
Attorneys that charge for the initial consultation argue that people don't value what they get for free. My experience runs contrary to that position.
I know that my time and experience are valuable, but so too is that of my prospective clients. So, while I offer a free consultation (usually lasting an hour or less), this does not translate into prospective clients thinking my knowledge and experience are not valuable. Instead, they learn first-hand how much I do know about the bankruptcy process and can see that I will do everything I can to help.
In rare cases, if your situation is very complicated, or if you do not have the key information I need, then I may not be able to help you, or I may have to charge for my time beyond the initial consultation. If I do have to charge for extra time, this payment will apply to my fee if you end up hiring me for your bankruptcy.
Skilled bankruptcy lawyers use the free consultation to gather critical facts about you, your income, your debts, assets, prospects, etc. Then, and only then, can the lawyer determine if bankruptcy is the right choice. Will it resolve your issues? What problems might crop up if you were to file bankruptcy?
While I fight for my clients, I like to look ahead and avoid any foreseeable conflicts. We all prefer smooth sailing. I use the free consultation to see what conflicts might exist and see if I can use the tools available to me (timing, facts, experience, and law) to set a trouble-free course. Common problems arise around having more assets than you can protect, income, transfers of assets before filing bankruptcy that could be problematic, and the like.
My free consultation allows for the careful collection of this information in a worry-free setting so that I can understand your situation, answer your questions, and present options.
And that is why I offer free consultations. 
Call Geranios Law at (406) 541-3565 to request my worksheet and schedule your free consultation.